APPLETON, WI – Wisconsin Swim Academy and Bayland Buildings, Inc. are excited to announce the official groundbreaking of a Swim facility located at 3411 E Evergreen Drive, Appleton, Wisconsin. The ceremony will take place on Friday, November 15, 2019, at 3:30 PM and is open to the public. Bayland Buildings, Inc. of Green Bay was selected as the general contractor for the new facility.
Wisconsin Swim Academy was established in 2007 in the backyard of the owner and operator Susie Van Ekeren. Much like today, Wisconsin Swim Academy focused its teachings around small class sizes, trusting relationships and self-confidence. WSA's successful curriculum paired with Van Ekeren's personal passion provided an avenue of consistent growth and a demand for a new facility.
The new 6,000 square-foot aquatic center will include a warm temperature-controlled pool, an observation area, spacious men's and women's locker rooms with showers and restrooms, office area, in addition to a retail area within the lobby. Wisconsin Swim Academy will continue to offer swimming lessons for both adults and children including daytime and evening in the Fall, Winter, Spring, and Summer.
"Jeff and I have 4 boys and have relied on this community and the opportunities it has provided to help us keep them safe and busy," said Van Ekeren. "Now it is our time to give back to the community by helping others with a safe and quality learn to swim environment that helps kids grow and develop."
A child dies from drowning every minute across the globe, and drowning is the #1 cause of death in children under the age of four. It's a silent epidemic that no one is talking about. Realizing the importance of taking action, Wisconsin Swim Academy recently partnered with the Hope Floats Foundation. The foundation partners with high-quality swim schools to provide scholarships for swimming lessons for children who would otherwise not be able to afford high-quality instruction.
"As part of this endeavor, we united with the Hope Floats Foundation to bring this opportunity to those in the community who maybe cannot afford the level of instruction that Wisconsin Swim Academy provides," said Van Ekeren.
The estimated completion of construction is the Spring of 2020. For more information on Wisconsin Swim Academy call (920) 427-8286.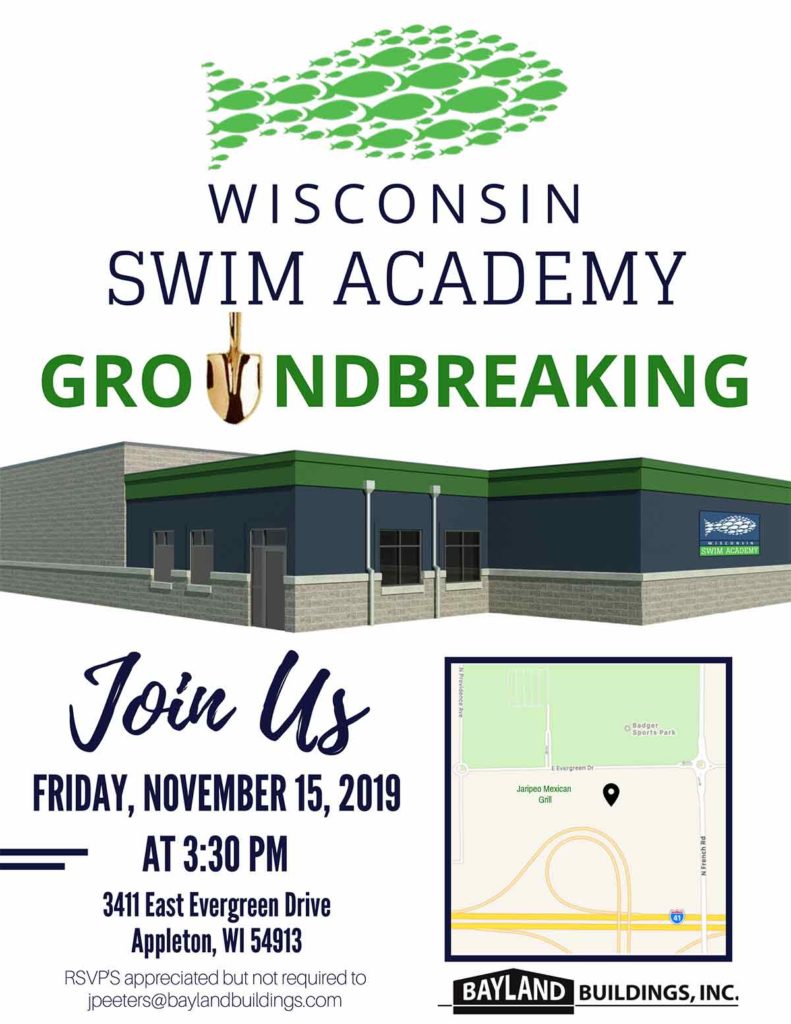 About Wisconsin Swim Academy
Wisconsin Swim Academy is a professional swim school owned and operated by Susie Van Ekeren, since 2010. With an estimated 42 swim instructors and over 1,000 students, WSA's philosophy is to take a loving, gentle approach to teaching by earning your child's trust and building their confidence so they can become smart, strong swimmers thus giving you peace of mind.
About Bayland Buildings Inc.
Bayland Buildings, Inc. is a 100% employee-owned, Commercial and Agricultural General Contractor founded in 1991. Built on a simple principle of providing customers with a seamless experience, without compromising overall quality. Bayland is recognized as one of the most competitive and respected building firms in Wisconsin and currently employs over 200 dedicated people.