Come see our splashy new digs!
We're excited to share our newly-opened 6,000 square-foot aquatic center in north Appleton with an 88° temperature-controlled pool, observation area, spacious men's and women's restrooms with showers and private office area for families to meet with our staff. The facility is also equipped with state-of-the-art filtration systems to ensure safety for our swimmers and their families. We currently hold classes 7 days a week for both adults and children.
Stop in and visit us at 3411 E. Evergreen Drive in Appleton across from Badger Sports Park!
We take safety seriously, both in and outside the pool. Learn more about our COVID Safety Pledge.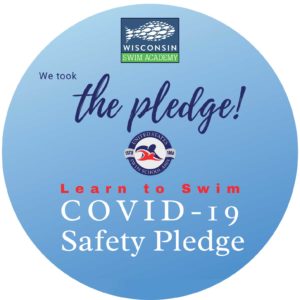 What makes Wisconsin Swim Academy different?
Established in 2010, Wisconsin Swim Academy is a professional swim school owned and operated by Susie Van Ekeren. With an estimated 48 swim instructors and over 1,000 families, together WSA takes a loving, gentle approach to teaching by earning your child's trust and building their confidence so they can become smart, strong kiddos both in and out of the water.
Frequently Asked Questions
What age should I put my child in swim lessons?
A child dies from drowning every minute across the globe!  It is the #1 cause of accidental death in children UNDER the age of 4!  You can put your child in swim lessons as early as 3 months of age to start the process of water acclimation for them and educational purposes for you!  By educating yourself and getting your kids in lessons early you will reduce the risk of drowning by 88%.
What are the benefits of swim lessons at an early age?
You reduce the risk of drowning by 88% 

Your child will gain social skills that studies show will help them to have an easier

transition into school. More information here. 

This same study showed that:

Intellectually, they were 6 months ahead of their peers in counting and mathematics reasoning.
Physically, they were 7 months ahead in motor development.
Socially, they were 15 months ahead in social and emotional development.
Do you offer referral discounts?
We do!  If you refer a family to us please tell them to let us know!  After the family has registered for classes and the class has begun we will issue YOU a $30.00 referral bonus! 
What is Hope Floats?
This is a great question!  Wisconsin Swim Academy feels the importance of drowning prevention is so important that we have partnered with a non-profit organization to help us reach kids who would not otherwise be able to afford quality swim lessons.  EVERY CENT DONATED by you goes to help pay for kids that are IN OUR DIRECT AREA (IN AND AROUND THE FOX CITIES) Your donation is tax deductible! You can DONATE NOW by clicking the Hope Floats button on the right hand side on the bottom our website!  For more information on this please feel free to contact us at (920) 427-8286.