We took the COVID-19 Learn to Swim Safety Pledge!
We pledge to make COVID-19 safety our number one priority.
We recognize we are all in this together fighting this pandemic and will do our part as members of our community.
We recognize our responsibility and take seriously the critical role we play in the health and safety of our swimmers, families, staff and communities.
We pledge to follow CDC and health department guidelines in the operation of our learn-to-swim facility.
We pledge to communicate, educate, implement and enforce safety standards that meet and may even exceed what is recommended.
We know that learning to swim is a life-saving skill and an essential layer of protection against drowning and will do our part to provide this training as safely as possible.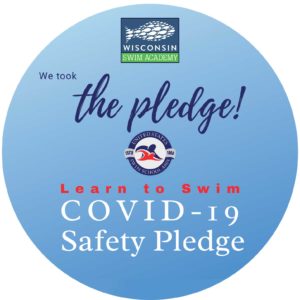 What does this look like at Wisconsin Swim Academy?
We Have Also Put Into Place Several Additional Protocols To Ensure Everyone's Comfort And Safety.
Limited Occupancy: One caregiver per child, please. We usually love to have all our swim buddies here, but we ask all non-swimming siblings to stay at home whenever possible to help us keep within our capacity limits.
Personal Protective Equipment: We miss your faces, but for now we are requiring all members to wear face masks in our facility, unless in the pool area.
Safe Exit: Showers will be temporarily closed in regulation with local and state authorities. While we encourage families to exit our facility as quickly and safely as possible, changing huts will be available to use after lessons if needed. We know fall is coming! Brrrrr.
Symptom Checklist: Anyone experiencing any COVID-19 symptoms must stay home. We look forward to seeing you again when you are healthy!
Super Clean: We always pride ourselves on a sparkling facility and have increased our cleaning regimen and pool sanitization schedule. In addition to professional deep cleaning and sanitation throughout the week, we have a dedicated cleaner during every shift to disinfect high touch surfaces.
Social Distancing: We've limited the number of chairs available in our viewing area with markers to accommodate social distancing guidelines. Keep a safe bubble.
Sanitized Air Circulation: Our pool and HVAC systems have been programmed to bring fresh air into the facility at a higher rate than traditional systems. Breathe easy.
Smaller Class Sizes: We always love the personal interactions we have with our swim buddies. We will continue to keep our 2:1 student to teacher ratio for group lessons.
Adjusted Traffic Flow: Parents or guardians can drop children off at the door once they are called for lessons. After lessons, parents or guardians will be permitted onto the pool deck to pick up their children.
If you have any questions or concerns, please don't hesitate to ask. Just keep swimming!